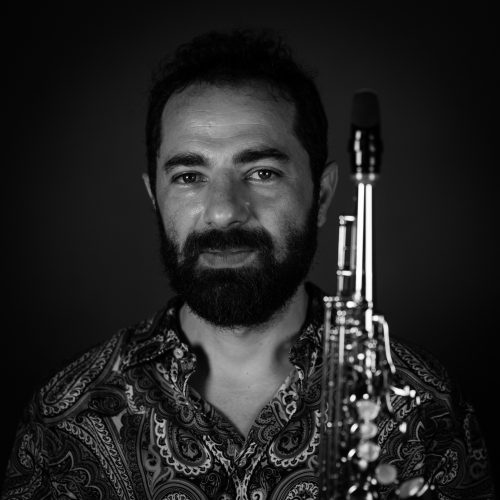 This duo is a journey in the words of the Sufi poems, in a space where Basma lights the stage with the warmth of her voice surrounded by the deep and unique style of Orwa's Oud. They juxtapose traditional Syrian songs and contemporary expressionism in a very balanced way and manage to unit Arab generations worldwide. After working together on many projects, Orwa and Basma performed as a duo for the very first time in 2016, redefining old Arabic melodies and trying to explore this musical freedom using fewer elements and focusing more on the possibilities that an oud and a voice could reach.
The singer Basma Jabr was born in Kuwait, grew up in Syria and now lives in Vienna. With her popular soundtracks, Basma has become a star of the young Syrian generation. Her breathtaking voice and her presence on stage captivate every audience. Oud player and composer Orwa Saleh, who left Damascus in 2012, started his Austrian career in Linz. Influenced by Jazz music and based on the classical Arabic music education, Orwa started his career as an Oud player and composer performing worldwide with many Jazz and world music projects and finally moved to Austria where he started his new project RUH "Contemporary Arabic Music". From ancient Syrian narratives and contemporary impressions Orwa develops his distinctive colorful music with his unique Oud game.
For the opening of Salam Orient, the duo presents its debut album "The songs we still remember" with a pre-release concert.
Renowned saxophonist and winner of the "Radio Monte Carlo Moyen-Orient Music Award", Basel Rajoub, will join Basma & Orwa for this opening night. His music is inspired by Middle Eastern rhythms, melody modes and jazz. Basel is active in a variety of contemporary music groups bringing musicians from different parts of the Middle East, North Africa and West Asia together.
Basma Jabr – vocals
Orwa Saleh – oud
Basel Rajoub – saxophon