DATE & TIME
FR. 16. Oktober 2020
7.30 pm
---
VENUE
Brunnenpassage
Brunnengasse 71 / Yppenplatz
1160 Vienna
www.brunnenpassage.at
---
TICKETS
Pay as you can
Anmeldung mit Betreff "Tazeen & Marwan" unter anmeldung@brunnenpassage.at

Erstmals wird im Rahmen von Salam Orient neben Musik und Literatur auch Bildende Kunst präsentiert. Gemeinsam mit dem Kunstraum philomena+ und in Zusammenarbeit mit der Kuratorin Christine Bruckbauer lädt Salam Orient die pakistanische Künstlerin Tazeen Qayyum für eine 1-monatige Künstleinrresidenz nach Wien ein, in der mehrere Projekte entstehen. Während des Festivalzeitraums finden eine Kunst-Performance mit Live-Musik sowie ein Workshop zu Miniaturmalerei statt. Ein persönliches Kennenlernen der Künstlerin und einiger ihrer Werke ist im Rahmen eines Open Studios im Kunstraum philomena+ möglich.
Together with the Palestinian musician Marwan Abado präsentiert Tazeen Qayyum eine ungewöhnliche Performance. Inspiriert von Marwan Abados facettenreichen Oud-Klängen und Gesang, lässt die Künstlerin zumeist am Boden zeichnend ein spontanes Wort-Mosaik auf Papier entstehen. Durch kreisförmige Anordnung und Wiederholung der Wörter, die sorgfältig gewählt sind und in ihrer Muttersprache Urdu geschrieben werden, bringt sich die Künstlerin in eine Art Trance Zustand. Die poetischen Wörter haben eine vielschichtige Bedeutung, bringen immer gesellschaftspolitische Relevanz mit sich und sind darüber hinaus auch persönlicher Ausdruck der Künstlerin. Die repetitive Wiedergabe der improvisierten Live-Musik spiegelt sich auch in der grafischen Performance wider. Sie verleiht den Klängen und Wörtern tiefe Bedeutung und vermag es, den/die Rezipienten/in in meditative Reflexion zu versetzen.
Tazeen Qayyum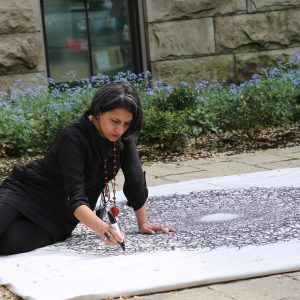 Tazeen Qayyum received her BFA in Visual Arts from the NCA (National College of Arts) in Lahore, Pakistan (1996), where she completed her training in traditional miniature painting according to Persian and South Asian tradition. She is one of the pioneers who first transported traditional miniature painting into a contemporary form and whose essence can be found today in her sculptures and performances. Repetition, rhythm, balance and geometry are methodological tools with which Tazeen Qayyum creates works of art that are visually complex and offer a multi-layered understanding of material and technique. In her works she deals with profound questions such as belonging and displacement in a socio-political context.
Tazeen Qayyum's works have been shown in galleries and museums around the world and are included in several publications and many private and public collections. Her artistic work has been reviewed several times, including in The Canadian Art (2018), The New York Times (2009) and The Globe and Mail, Canada (2011 and 2015). She has been nominated for the Jameel Prize (2013) and the K.M. Hunter Award (2014), she has been awarded the Excellence in Art Award 2015 by the CCAI (Canadian Community Arts Initiative).
Marwan Abado
Marwan Abado was born into a Christian Palestinian family in a refugee camp in Beirut, Lebanon. In 1985 he fled as a teenager from the civil war zone to Austria and continued his musical education here with the Iraqi Oud master Asim Chalabi. Today, the active musician is one of the most important artists in the Austrian world music scene. In 2008 he received the honor award for intercultural dialogue from the Ministry of Education.
www.tazeenqayyum.com
www.marwan-abado.net
In Kooperation mit philomena+